NGen is connecting people and communities like never before. With membership now exceeding 4,000 contributors to the Canadian advanced manufacturing ecosystem, NGen is connecting manufacturers, technology providers, academic and research institutions, business and innovation networks, government agencies, supporting services and individual experts across the country.
With a mission of building world-leading advanced manufacturing capabilities in Canada, NGen incentivizes collaboration to achieve things that no single company or organization could on its own. As membership continues to grow, so too does the number of new business opportunities across NGen's network of networks.
By simply sharing information about capabilities, NGen Members can participate in projects, programs and connect with one another in order to find innovation or business partners, share IP, solve common challenges or share experiences and best practices.
Since reaching 1,000 members in September 2019 and 3,000 in November 2020, NGen has seen a significant uptake of project and program offerings – with tremendous results.
NGen Membership Map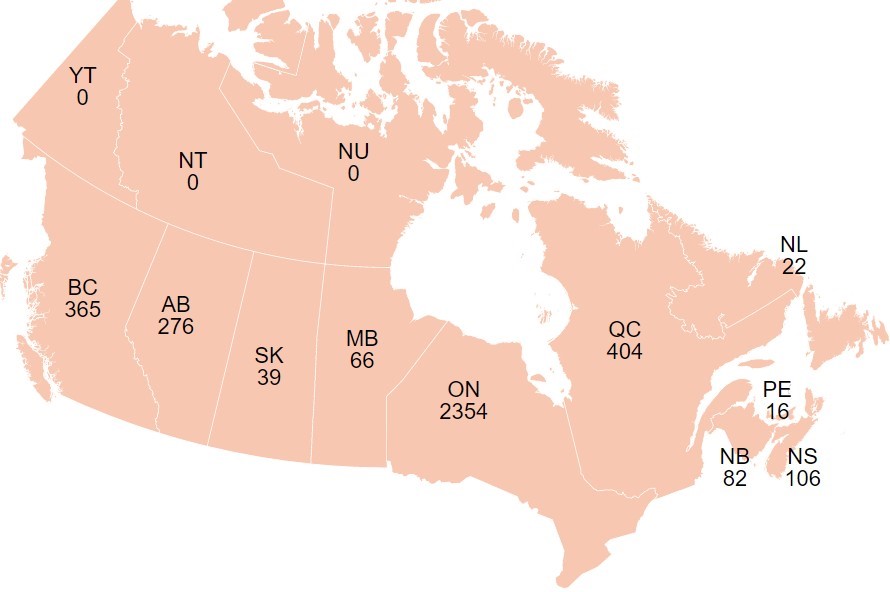 For a more detailed look at NGen's Membership network, sign up for free at www.ngen.ca/membership
Project Collaboration: Industry-Led Transformations
129 Projects
$203M NGen Investment
$497M Total Project Value
294 Industry Partners
56 Academic & Research Partners
264 SMEs
40 Public Sector Partners
NGen co-invests with industry in collaborative projects that have the potential to transform manufacturing processes, lead to significant commercial opportunities, and contribute to Canada's advanced manufacturing ecosystem through the transfer of knowledge and intellectual property.
NGen has worked with 40 public sector departments and funding agencies across Canada and now has a portfolio of projects that combine research, technology, and manufacturing capabilities in the development and scale-up of novel manufacturing processes. Collaboration provides project partners with innovation, scale-up, and commercial opportunities they would not be able to achieve on their own. Licensing agreements allow IP arising in projects to be shared with NGen members and applied across manufacturing sectors.
To date, NGen has approved investments of $203.3 million in 129 projects leveraging an estimated $497.2 million to total innovation spending. NGen's project portfolio involves 294 industry and 56 academic and research partners from across Canada. 90% of the industry partners participating in NGen-funded projects are SMEs and 25% of NGen-funded projects involve interprovincial collaboration among project partners.
Cluster Ecosystem: A Network of Networks
NGen provides up to $75,000 in financial support to small and medium-sized companies working together to form new, or enhance the activities of existing, advanced manufacturing clusters.
NGen's Cluster Building program aims to support transformative activities that help cluster members deploy, scale-up, or commercialize advanced technologies, undertake joint workforce development and performance improvement initiatives, or take advantage of new business opportunities in Canada or in international markets.
NGen also facilitates connections and collaboration among advanced manufacturing clusters across Canada and internationally, enabling their members to find innovation or business partners, share insights and best practices, and undertake joint innovation initiatives.
NGen currently supports and connects 12 advanced manufacturing clusters across Canada, representing over 1,750 organizations. A further 7 are under development, including an Indigenous Manufacturing Cluster in Western Canada. NGen also connects its members with international advanced manufacturing clusters in the European Union, UK, Singapore, Taiwan, and South Korea.
Workforce & Training – Future-Proof Skillsets
Through AMPUP, NGen provides Members with discounts for curated skills development courses and management training from world-class training institutions across Canada. With 20 education and training partnerships and growing, NGen provides Members with a diverse offering of courses including leadership, circular economy, advanced manufacturing business management, and more. Visit our website to browse over 80 course offerings from across Canada and provide your organization with a competitive edge in an uncertain, dynamic operating environment.
Sign up for your free NGen Membership today and get connected to advanced manufacturing in Canada.
For more information about NGen, our project portfolio, membership demographics and program offerings, take a look at our 2020-2021 Annual Report.