Next Generation Manufacturing Canada, Canada's Advanced Manufacturing Supercluster, continues to grow with membership now topping 3,000 manufacturers, technology providers, academic and research institutions, business and innovation networks, government agencies, supporting services, and individual experts from across Canada and around the world.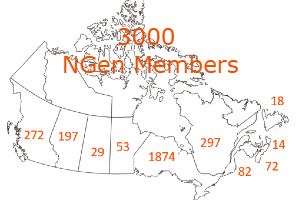 "NGen is dedicated to building world-leading advanced manufacturing capabilities in Canada," says NGen CEO Jayson Myers. "That doesn't happen one company or one organization at a time. It happens by connecting and strengthening collaboration across the rich research, technology, manufacturing, and workforce development assets that are found across Canada, integrating these strengths and expertise to create unique solutions for manufacturing, and generating value for Canadians that is much greater than what any organization can achieve on its own. NGen continues to build Canada's Advanced Manufacturing Supercluster. Now with 3,000 members and counting, the opportunities for developing, scaling up, and deploying next generation manufacturing capabilities in Canada are greater than ever."

NGen membership is open to any cluster, business, not-for-profit organization, or individual expert contributing to Canada's advanced manufacturing ecosystem. Members bring a tremendous depth of knowledge across a variety of advanced digital, materials, and production technologies, ranging from sensors, digital connectivity, simulated reality, data analytics, and machine learning to 3-D printing, smart materials, automation, and robotics. They also bring business and industrial expertise across Canada's manufacturing sector. More than 89% of NGen's members are small- and medium-sized companies.

NGen is Canada's Advanced Manufacturing Supercluster. While two-thirds of members are based in Ontario, all provinces are represented in NGen's membership, and the Supercluster will continue to expand its base across all regions of the country.

All NGen members are eligible to apply to lead or partner in the collaborative and transformative projects supported by the Supercluster. As of the end of October, NGen has approved 60 advanced manufacturing projects with Supercluster investments of $124 million. The projects involve 136 industry partners from across Canada, 125 of which are SMEs. They are currently supporting more than 950 high paying jobs directly in project activities.

To learn more about the Advanced Manufacturing Superclusters impact on Canada's economy click here.

Become a member of NGen to participate in Supercluster projects, find partners and customers, and access NGen services. Membership is free. Join here.

About NGen
The Supercluster will leverage Canada's technology and industrial strengths to accelerate the development, adoption, and scale-up of world-leading capabilities in Canadian manufacturing.

NGen's aim is to strengthen the competitiveness of Canada's manufacturing sector, drive more innovation and investment in advanced manufacturing technologies in Canada, generate new commercial opportunities for Canadian companies in global markets, grow more large-scale world-leading Canadian enterprises, and develop a modern and inclusive workforce with the skills required to excel in advanced manufacturing today and in the future. By combining Canada's manufacturing and technology strengths, and facilitating access to supporting infrastructure and services, the Supercluster aims to achieve exponential benefits for Canadian industry and the Canadian economy.