This past October 2nd and 9th NGen held two highly anticipated Collaboration sessions at CMTS and EMC respectively.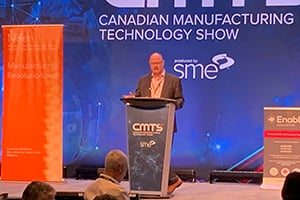 Collaboration events feature presentations by companies with project ideas who are seeking prospective project partners to form a consortium, that is a requirement for advanced manufacturing Supercluster funding.
Below are the presentations in PDF format. We will be posting the videos on our Youtube channel when available.
Canadian Manufacturing Technology Show (CMTS) October 2, 2019 at the International Centre in Mississauga Ontario.
Wuxly Movement, a maker of sustainable outerwear seeking enhanced manufacturing processes for its advanced technical materials. PDF
Praemo

delivers Razor™ — an analytics engine combining industry expertise with AI and the IIoT to predict and prevent disruption to your operations. PDF

Applus+ Canada

is a worldwide leader in the testing, inspection and certification sector. PDF
Callisto Integration is a leader in the design, development and implementation of advanced systems for manufacturing. PDF

OMNIRobotic helps mass customization manufacturers robotize their operations using autonomous industrial robots. PDF

Nanogrande combines additive manufacturing, nanotechnology and machine learning. PDF
Jesse Garant Metrology Centre builds and customizes industrial CT scanning systems. PDF
FreePoint Technologies is a company that improves connectivity between machines and people. PDF
PolyML, a machine learning company looking for manufacturing partners that seek to improve predictive maintenance. PDF
---
EMC's Advantage Through Excellence - Future of Manufacturing Conference
October 9, 2019 in Vaughan, Ontario.
---
Recent post: Jayson Myers Delivers Keynote at EMC's Future of Manufacturing Conference