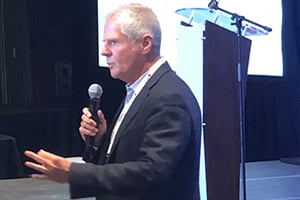 NGen's CEO Jayson Myers delivered the keynote presentation titled Advanced Manufacturing Canada's Competitive Advantage at EMC's Future of Manufacturing Conference in Vaughan, Ontario.
Canadian manufacturers need to better understand what new technologies can do for their business, NGen CEO Jayson Myers told a large gathering of manufacturing leaders at the EMC conference this past week, warning that not every technology is appropriate for their needs. "Advanced manufacturing is not about technology but about how we use technology to create value." Myers added, "too often, Canadian manufacturers are being encouraged to buy or adopt new technologies without having the skills and capacity to get the most out of them."
NGen helps build world-leading advanced manufacturing capabilities and leverages Canada's technology and industrial strengths to accelerate the adoption of advanced technology by Canadian manufacturers for commercialization in global markets.
NGen is about promoting technology adoption, skills improvements and greater collaboration between technology and manufacturing to help Canadian companies of all sizes navigate the global shift to advanced manufacturing.
Myers emphasized the need for leadership in Canadian companies to adopt the new technologies essential for companies looking to advance their manufacturing capabilities. "We often forget that one of the biggest skills gaps we have is effective technical leadership and how to position companies for growth. No company will be successful in five years unless leadership has a broad perspective on technical integration and utilization."
"We don't do enough to advertise or promote our capabilities in advanced manufacturing in Canada," added Myers. "Canadian manufacturers have been more profitable than our counterparts in the States. There's more to manufacturing than volume. Our manufacturers bring high value to their products."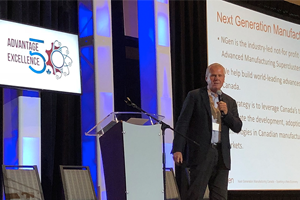 As the CEO of NGen, Myers is committed to positioning the not-for-profit that runs the Advanced Manufacturing Supercluster to help companies find the right technology solutions to their challenges, and to develop the business capabilities to get the most out of those investments.
An important moment is Myers presentation was when he stressed how crucial diversity is to all sectors of Canadian industry. "The push to bring more women and under-represented groups into manufacturing isn't just about political correctness, it's really a matter of survival. We simply won't have enough people in manufacturing without engaging the entire population. This is the case for companies in manufacturing and companies outside of manufacturing."
The EMC Future of Manufacturing Conference that Myers was speaking at included several pitches for projects that aspire to Supercluster funding. The Collaboration session featured an exciting roster of companies who presented project ideas and are seeking prospective project partners to form a consortium, that is a requirement for advanced manufacturing Supercluster funding.
Presenting companies included:

NGen would like to thank EMC for this great opportunity.