What is a Supercluster?
Canada already has well-established and productive industrial clusters around the country; think of the aerospace and logistics clusters around Montreal, the life sciences and steel clusters around Hamilton, "Silicon Valley North" in the Toronto-Waterloo corridor, and the forestry clusters out of BC as a few examples.
Companies with similar technologies come together in close geographic proximity because of the talent pool that develops in the region. Establishing formal clusters then allows shared risk and reward in R&D projects, collaboration on policy-making and knowledge-sharing, and ultimately increased competition on the world stage.
The Canadian government saw that all of these advantages could be even further accelerated by connecting similar clusters across the country, coining the term "Supercluster". Further, investing federal dollars into the clusters would help to support collaboration and R&D spend.
The Ministry of Innovation, Science and Economic Development Canada [ISED] solicited industry to recommend which Superclusters should be created and how their contributions could be matched by industry to encourage exports and job creation within the country.
What is NGen?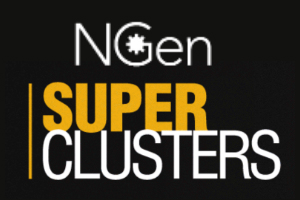 NGen is the industry-led not-for-profit that was selected by ISED to create and lead the Advanced Manufacturing Supercluster. Today we have 16 employees who are considered experts in backgrounds ranging from the Canadian economy to entrepreneurship and business development, manufacturing technology and new product commercialization.
Our goal is to connect Canadian companies and organizations operating within the manufacturing sector, raise awareness about the diverse and leading-edge talent on our soil, and create a brand for Canadian manufacturing on the world stage.
As a catalyst for this initiative, the government has allocated $230M to NGen to invest in some of Canada's most transformative advanced manufacturing projects.
What types of projects does NGen support?
NGen projects have to include the creation or adoption of transformative manufacturing technology. Your product is important to us in the sense that that's where you'll gain a return on the NGen investment, but it's how you build the product that makes a potential NGen project and in that sense the technology has to be applied.
We're also looking for collaboration. Our grants are for projects that bring together manufacturers and technology providers to create new technology or processes. We're expecting each partner to join because they see great commercialization potential and the possibility to learn something new or even create new IP. The partners must be willing to share risks and rewards.
It's also important to us that the project results be enduring, meaning that they will set the partners on a path to growth that will continue for years into the future.
Much more detailed information can be found in our project application guides, and if you have an idea that you think may be a fit (or even if you're not sure!), feel free to contact our project team for more info: project@ngen.ca
Why should I join NGen?
NGen isn't only about funding projects! Our mandate is to raise awareness about Canadian manufacturing and help to strengthen both national and international networks. Joining is free and allows you access to our membership list including contact information for 1500 – and growing! - manufacturers and technology providers in Canada.
We host Collaboration events across the country, where project pitches and networking are entirely free to our members. Our biggest event of the year is coming up in Kitchener, Ontario on April 28th. Register here to attend, and contact our project team if you're interested in pitching a project!
We're also building our networks with other government funding agencies and not-for-profits interested in manufacturing in Canada, so if you want to get networked and in on the latest, then NGen is a great place to start!