April 28, 2020 is Canada' Advanced Manufacturing Supercluster event. Register here.

NGen now has an open call to companies for project proposals that could be funded under its Advanced Manufacturing Supercluster program. Companies interested in pitching their idea can apply here.
After successful collaboration events across the country NGen returns to Kitchener's Lot42 to host Collaboration Canada: Driving the future with advanced manufacturing​ event, Canada's advanced manufacturing showcase of innovation where companies seek partners for their transformative projects.
This year's event will feature leading companies who will share their project ideas with the goal of finding prospective collaborators to form a consortium and apply for advanced manufacturing Supercluster funding. View last year's lineup of companies here.
"After all the positive feedback we received about last year's event, we decided to build on the winning formula that made last year's Collaboration Day such a great success," said NGen's CEO Jayson Myers.
New to this year's agenda are the NGen Supercluster projects and we plan on having some of the participating companies present their projects.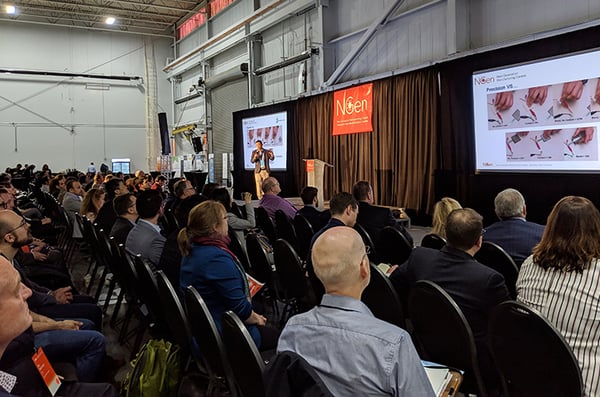 Last year's event saw over 450 attendees from across Ontario and from as far as Newfoundland & Labrador and British Columbia all gathered on the site of an old steel fabrication factory. A very suitable venue for the next generation of Canada's leaders in advanced manufacturing to get together and plan a new wave of innovation projects. This year's event will be an unparalleled networking opportunity and not to be missed.
A select group of companies have the opportunity to showcase their advanced manufacturing technology and capabilities through live demonstrations in our Collaboration Corridor. If you are interested in sponsoring or having a booth at this one-day event contact Frank Defalco frank.defalco@ngen.ca.