When it comes to women in the Canadian manufacturing industry, Next Generation Manufacturing Canada (NGen for short) is well ahead of the national average[i] and proud of it. Over 50 per cent of our staff are highly accomplished women fully committed to driving Canada's advanced manufacturing supercluster. What better time to highlight some of these staff members than on the eve of International Women's Day? So let us introduce you to some of the high-powered women who are building world leading advanced manufacturing capabilities here in Canada.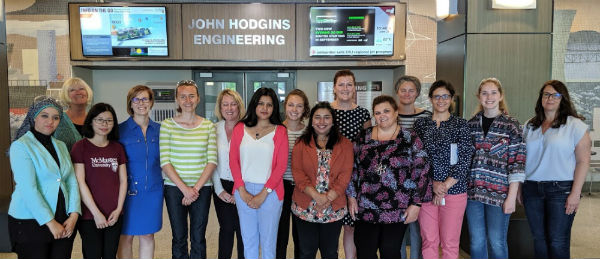 For each of these women, their strong motivation to boost advanced manufacturing in Canada and work with exceptional people drew them to NGen.
Christy Michalak, P.Eng., Sr. Technology Manager, says it was also the technology itself: "Canada has some really exciting innovation happening in the manufacturing sector, and I've been involved in that throughout my career. But I was thrilled for a chance to participate at a scale that could make a significant impact for the country."
NGen's brand-new way of supporting innovation in Canada caught the attention of Jenn MacLean, PhD, Director, Collaboration: "There have been many programs that have successfully supported collaboration and innovation in Canada, but the Innovation Supercluster Initiative is the first significant funding investment to provide direct support for innovation at Canadian companies. [This] has been a passion of mine for many years, so I knew I had to be a part of NGen."
Rhonda O'Keefe, IP Manager, relished the focus on intellectual property as a vehicle for making Canada's manufacturing industry more globally competitive: "The Supercluster Initiative seeks to make IP more obtainable for SMEs by providing education, support, and actual funding dollars … It also provides a way to get more mileage out of IP for the owner and for Canada."
Bridget Bohan, Director, Business Development, understands the integral role manufacturing plays in Canada's well-being and is excited about working with the clusters to build a legacy of the world's best advanced manufacturers, solutions and supply chain networks: "My father worked in a factory … After 30 years of service and no sick days, … we were devastated when the factory closed its doors, as were 3,000 other families … When I heard about NGen's mission, I jumped onboard to be part of this advanced manufacturing movement right here in Canada."
These women aren't afraid to aim high. They want Canada to become a world leader in advanced manufacturing. They are confident it can happen and know collaboration is the ticket.
"I want more Canadian manufacturers partnering up and putting their heads together to create a united culture of innovation, even if they are competitors," says Joanne MacKinnon, Senior Project Coordinator.
Bringing manufacturing back to Canada is key for Carol Cutrone, Office Manager and Executive Assistant to NGen's CEO, Jayson Myers: "We need to support businesses on all fronts, create jobs, stop outsourcing, and be great at what we do."
O'Keefe envisions a Canada where manufacturers understand, recognize, and leverage the value in the intellectual properties they create. "I also hope to reduce the fear companies have when it comes to being truly collaborative with other organizations and encourage some outside-the-box thinking when it comes to licensing their IP outside their competitive field."
Wendy Young, Director, Data, Information Systems, and Security, wants to keep it all safe by "providing guidance to the manufacturing industry in cyber security best practices with developing technology."
These women also agree on some of their favourite things about NGen.
Everyone mentioned the people they get to work with and meet. "I thoroughly enjoy working directly with Canadian manufacturers and with a multi-talented team who are all passionate about moving the dial for Canadian manufacturing," says Gillian Sheldon, Senior Program Manager.
The thrill of helping exciting projects happen is another enormous payoff. "Seeing an introduction or an email go to a full-scale project—knowing what it takes to get there—with the team and support we have," explains Cutrone, "starting with an idea and seeing it come to fruition."
These women are inspired, hardworking, and key contributors to the success of NGen's Supercluster. It is a privilege to work with them.
Want to know more? Here are snapshots of their professional backgrounds and their roles at NGen:
Bridget Bohan – Director, Business Development
The entrepreneur with a stellar reputation for helping start-ups succeed, including two of her own
Well versed in the common challenges facing manufacturers everywhere
Consulted for an SME manufacturer in South West England
"I am responsible for NGen's strategic partnership programs, sponsorship, building a sustainable revenue model, and working with regions and SMEs across the country to build clusters under our capacity-building fund."
Carol Cutrone – Office Manager and Executive Assistant to CEO
The go-to woman who can get to the bottom of anything
Over 30 years of experience in professional office executive assistant positions
Track record of strong performance in high-volume, high-pressure environments with unparalleled scheduling, correspondence, best practices, and organization expertise
"I liaise with all the staff to fill the gaps of communication within the organization regarding who is doing what, events we should attend, etcetera. I also support our CEO in all asks for NGen and act as a professional go-to for people outside our organization."
Joanne MacKinnon – Senior Project Coordinator
The keen and efficacious R&D process overseer
Scope of experience in varied areas including purchasing in the automotive industry, inside sales, and scheduling before moving into R & D as a product development coordinator
Derives great satisfaction from seeing the seed of an idea through to a great new innovation
"I help to ensure that the process runs smoothly so that the program managers can spend more time working with the applicants rather than dealing with the day-to-day issues that come up. I also create new processes so everyone's time is spent more wisely."
Jenn MacLean – PhD, Director, Collaboration
The expert in dynamic partnerships, collaborative problem solving, and goal-oriented program development, who also happens to have a PhD in Medical Biophysics
5 years at Mitacs supporting industry-academic collaborations and working with companies, researchers, and government to drive program development
2 years at SOSCIP building partnerships to foster industry access to the best and brightest in computing and AI, and getting them the computational power they needed
"I have the best job at NGen, though I think there's a few of us here who would say that! I get to work with other organizations that share our passion for Canadian manufacturing, collaboration, partnerships, and made-in-Canada technology solutions, as well as build partnerships with other organizations to compound our impact across the country."
Christy Michalak – P.Eng., Sr. Technology Manager
The engineer with broad and excellent perspective
20 years of engineering experience spanning functions from product design and manufacturing to global sales and marketing, primarily in the automotive and aerospace sectors
Worked with many of the industry's leading innovators, both large and small
"When companies connect with us to find out about our programs, I … get to hear their stories and see how NGen can provide value. Some days I get to help them push the boundaries of what they thought possible. Other days, they show me a vision for their future, and I try to find a way to help them on their journey."
Rhonda O'Keefe – IP Manager
The Chemical Engineer dedicated to IP and loving it
Career spent working for manufacturing organizations in R&D and IP solutions
Formerly responsible for a portfolio of over 1,000 pending and granted patents worldwide while head of the IP department for a global, top-tier plastics machinery and technology company
"I help projects [develop] their … IP strategy, provide additional support and general IP education for SMEs that are new to IP or have limited experience with IP, and assist with the contracting process for successful applicants. I also ensure that projects' IP strategies meet … the IP goals of the program and report on what new IP has been created with NGen's funding."
Gillian Sheldon – Senior Program Manager
The keeper of the family manufacturing tradition
Grew up in a manufacturing-based family business
Moved into economic development and then innovation funding
"I work with companies to identify, shape, and script NGen project applications. I also connect the dots—connecting companies for combined success (B2B, B2i, or B2G)."
Wendy Young – Director, Data, Information Systems, and Security
The champion of improving security practices at all levels of business, through all tiers of the supply chain
Over 30 years managing the technical and leadership aspects of technology, security, and innovation to the energy/utility, automotive, finance, and transportation sectors
Recently helped develop the Ontario Cyber Security Framework
"[I oversee] the Supercluster's analytics and reporting and IT-related projects … develop NGen data strategy and compliance roadmaps required for data governance, and maximize the value of NGen data."
Author: Laurie Bodley
---
[1] According to CME's summary paper, Untapped Potential: Attracting and engaging women in Canadian Manufacturing, women "make up about 48 per cent of the Canadian workforce, but only 28 per cent of jobs in manufacturing."