Continuing the tradition of a woman-owned Niagara firm thriving in the Niagara Region. Written by Don Fraser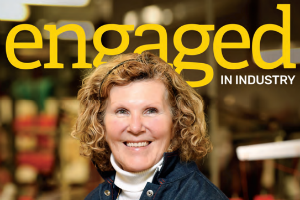 Lyse Moreau's mother Claudette was the founder of International Sew Right, which opened in 1983 on Ontario Street in the north end of St. Catharines. A few years later, ISR relocated to its current site at Don Murie Street in Niagara Falls.
Lyse began working at International Sew in the 1980s. In 2001 Lyse became partners with her mother and began making positive changes to get International Sew Right ready to export. In 2011 Lyse's was a 100% women-owned manufacturing facility.
An employee once gave Lyse a word of advice: "You simply have to know the front and back of the business to operate it properly." They were words of wisdom Lyse took to heart, as she was planning the growth of International Sew Right.
"Mom had the vision and passed it on to me," said Lyse. "I merely expanded on it." Mom made herself an expert on what her company makes, and how they make it and I worked hard to keep up with the times and create new innovations."
The facility —located in the industrial park near Chippawa— is semi-automated, with an array of sewing machines, presses, electrical cutting equipment, CAD department-cutting room.
A stroll through the ISR back room reveals seamstresses using machines of many varieties, from single and double-needles to five-thread sergers, snap-inserting machines and featuring a CAD (computer-assisted design) machine that cuts-out intricate patterns.
"Opportunities always present themselves." Lyse said. She points to one example — a current order for ballistic blankets that use a type of Kevlar and is designed to stop ammunition fire and shrapnel.
Sew Right sells across Canada with a growing customer base in the U.S., with exports to Brazil and India and plans to branch into Mexico.
"I'm very proud of the team we have here, we love what we do and when it comes to designing something new, everyone is in on it."
During a recent trip to the city of Monterrey in northeast Mexico — part of a push by ISR to scope-out international markets there — she joined a group of delegates from the Organization of Women in International Trade. Top Canadian businesswomen were introduced to Mexican leads that could leverage exporting opportunities. It resulted in at least a couple of solid connections for ISR.
Lyse explained, walking through her 8,500 square-foot facility, which employs eight, that International Sew Right's core business over the years has been in custom-designing and manufacturing safety clothing, focusing on proximity suits, arc flash protection, high heat, fire-retardant and high-visibility clothing, coveralls, bib overalls, shop coats, aprons, sleeves, head protection, welders clothing and tarps, gloves, parkas, bomber jackets, and aprons well over 400 products.
International Sew Right is considered to be a Tier 1 & Tier 2 company internationally; with the ability to assist anyone with a safety concern. There is no limit to what they can do.
Business growth like this is always a top priority, and to that end, the ISR's membership in the Niagara Industrial Association has been helpful.
Since taking over, Lyse restructured operations in targeted ways that include upgrading the accounting and purchasing departments, automating cutting and sewing areas as well as redesigning the shipping and receiving departments. Employees at ISR have been key to crafting those changes. So has the Association.
"Niagara Industrial Association members are in some type of manufacturing, so we all know what we're going through, and we're all great at helping each other out," Lyse said, "All the help from the NIA saves us a lot of time and it is greatly appreciated."
It's a respectful and family-like environment in this way, Lyse said, adding her life-partner Doug Kitchen pitches in as needed and her son Charles who is in charge of sales and marketing has been a permanent addition since 2011 and on and off when Lyse needs help since 1993.
Office manager Suzanne Rose shares the sense of unity at ISR. "It's genuinely fun here, and it's different every day," she said. "We're really a good team— we work well together."
In addition, the team has achieved:
2004 Niagara Entrepreneur of the year Award
2014 Ontario Health and Safety Golden Award – Readers' Choice Award for Designing and Manufacturing Safety Apparel and Aluminized Clothing
2015 Chamber of Commerce Entrepreneur of the year
2015 Women's Distinguish Award for Achievements in the Industry
Article was initially published in Engaged in Industry