Next Generation Manufacturing Canada (NGen), Canada's advanced manufacturing Supercluster, is excited to announce new project streams dedicated to support Canada's outstanding SMEs. The objectives of NGen's Capacity Building projects are to establish Canadian manufacturers as world leaders in advanced manufacturing. This is to be accomplished by supporting new clusters and partnerships, de-risking investments in advanced manufacturing technologies and supporting the development of new manufacturing technologies and processes by Canadian SMEs.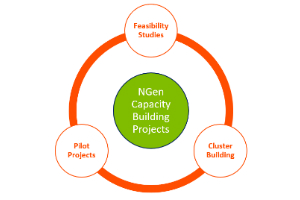 The Capacity Building program's $12 million budget is in addition to the previously announced $190 million fund dedicated by NGen to support advanced manufacturing Supercluster projects.
NGen Pilot Projects are intended to help SMEs prove out and de-risk technology development and implementation projects in advanced manufacturing. The projects can range in total value from $100,000 to $500,000 and require a consortium of two SMEs. Projects can last up to nine months and are reimbursed at 50%.
NGen Cluster Building activities are intended to facilitate broader collaboration and cooperation among SMEs and supporting organizations in order to accelerate the implementation, scale-up, and commercialization of advanced technologies for manufacturing in Canada. They can range from $75,000 - $150,000, involve five or more SMEs and can last up to twelve months and are reimbursed at 50%.
NGen Feasibility Studies are intended to help SMEs de-risk advanced manufacturing, business planning, and technology implementation strategies. Studies can address key knowledge gaps and risks to enable them to secure additional NGen funding for larger scale technology implementation projects. NGen Feasibility Studies can range from $50,000 - $200,000, can last up to nine months and are reimbursed at 50%.
NGen's Capacity Building projects have the potential to help SME's scale up and can also be used as an on-ramp to apply for larger Supercluster projects.
About NGen
Canada's Advanced Manufacturing Supercluster is led by Next Generation Manufacturing Canada (NGen), an industry-focused, not for- profit corporation dedicated to positioning Canada as a world leader in advanced manufacturing capabilities. The Supercluster will drive connections between technology and industrial companies to accelerate the development, adoption, and scale-up of transformative capabilities in Canadian manufacturing.