Every company is – or should be – deeply concerned about protecting its intellectual property. Controlling the fate of a company's IP is vital to success. IP goes beyond filing patents and includes everything from know how and trade secrets to trademarks and business information.
There is no surprise that questions about how to protect IP has emerged as a core issue for Supercluster projects, especially because all projects require collaboration between private sector companies.

The following is an interview with NGen's manager of IP Rhonda O'Keefe. Rhonda explains how IP is treated in Supercluster projects, and why IP is so important in the digital economy.

Who owns the foreground IP that comes out of Supercluster projects?

Legally, IP is owned by the person, company or organization that invented it. But alternative arrangements, such as sharing IP within certain markets or by technology, are always an option. IP developed during NGen funded projects will be owned and controlled by the company that creates it unless you and your partners agree to something different. Should a project application be successful the project will require a Collaboration Agreement. This agreement will include any arrangement that governs the roles and responsibilities of each project participant.

How do I protect IP while meeting with potential partners?

You should never discuss sensitive or proprietary information without having protections in place. The best way is to file for any patents before entering any discussions, and never discuss trade secrets. If you want to proceed with discussions that involve intellectual property, you should ensure you have a robust Non-Disclosure Agreement (NDA) and/or IP ownership agreement in place ahead of time.

Do I have to share my background IP with partners in the project consortium?

Project participants negotiate their own ownership rules and incorporate them into the Collaboration Agreement required for every project. Project participants who bring IP into a Supercluster project will likely need to grant a royalty-free, non-exclusive limited license to other partners for the project's duration. The license can be limited to a specific use of the IP, such as for testing purposes or other uses needed to complete work on the project. Any licensing of the IP after or outside of the project is up to you but each party needs to be able to achieve their commercialization and further development goals.

Does every project need an IP plan and what does it look like?

Yes. Every project requires an IP strategy, and NGen has workshops, a guide and a template available on our website. A comprehensive IP strategy supports the commercialization plans for each member of the project as well as defines the access required by each of the project partners to the IP both during and after the project. If projects are funded, they will be required to put a collaboration agreement in place that includes the licensing and access terms for the project, if this is negotiated up front there are no surprises down the road. At the end of the day the IP strategy and collaboration agreement must adhere to the rules set out in the NGen IP Strategy.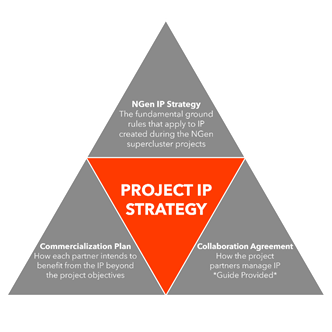 Every project receives IP support at various touch points during the application process and if successful during the contracting and monitoring phases of your project as well. In the meantime, feel free to contact me (Rhonda O'Keefe) with any questions about building a plan.


Do other members of the Supercluster get access to my IP?

Companies are encouraged to share the foreground IP developed in projects whenever possible – although no company is obligated to do so. NGen will be launching an IP registry of foreground IP created from Supercluster projects in April 2021. The IP Registry will be available to all NGen members. Companies decide when during the project to post the foreground IP on the registry and will be in charge to the discussions should any NGen member express interest.

Here's how it works. In conjunction with NGen, companies would provide a description of the IP, think of it as a profile or classified ad, it states what new capabilities or problems have been solved by the foreground IP developed during the project. Companies retain the right of final approval to ensure they are comfortable with what's being listed in the registry. It provides another avenue for other NGen members who could be potential customers, suppliers, or future joint development partners to find your company. It helps increase the impact of the funding dollars across the Canadian manufacturing ecosystem.
How can NGen help me with IP issues?
Ownership and control of intellectual property should be a priority consideration from the outset of every project application. NGen will help consortiums negotiate and mediate IP issues that arise as part of a project, as well as advise the companies on how to protect any IP that comes out of the projects.
NGen is also available to provide information on IP and help companies develop an IP strategy. We have hosted workshops for project applicants and ones more focused on general non project specific IP issues which are recorded and available on the NGen website to be viewed at any time.
Intellectual Property Deep Dive Workshop - for project applicants
Access the Expert - Real IP Experts Real IP Answers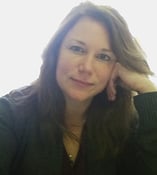 Rhonda O'Keefe is NGen's IP manager. She has 15 years experience working for manufacturing organizations in both R&D and Intellectual Property positions.