Registration is free until Sept. 27
At least 13 companies will present potential Supercluster project ideas when NGen hosts a call for proposals at its event inside the 2019 Canadian Manufacturing Technology Show (CMTS) in Toronto next week.
The companies will present their ideas - and seek prospective project partners - inside the Conference Centre from 3 to 5 PM on October 2 in a session that is open to anyone attending CMTS.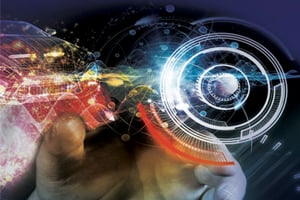 Companies will present their project ideas from 3 to 5 PM on October 2 in a session open to anyone attending CMTS.
Attendance at the NGen event is free for those who register for CMTS by September 27.
The CMTS Collaboration event will feature presentations by companies that have developed project ideas and are looking for partners to form a consortium that is a requirement for Supercluster funding.
"It will be an exciting lineup of presenters," says Jenn MacLean, NGen's Director, Collaboration. "It's an eclectic group, ranging from Montreal-based Nanogrande, which combines additive manufacturing, nanotechnology and machine learning, to Jesse Garant Metrology Centre, which builds and customizes industrial CT scanning systems, and FreePoint Technologies, a company that improves connectivity between machines and people.
"These companies and more will be looking for partners to apply for Supercluster funding."
Presenting companies will also include:
Promation

is a leading automation manufacturing who deliver custom equipment and turnkey systems.

Wuxly Movement, a maker of sustainable outerwear seeking enhanced manufacturing processes for its highly advanced technical materials;
PolyML, a machine learning company looking for manufacturing partners that seek to improve predictive maintenance;
Tekna, a leader in induction plasma systems and a manufacturer of advanced material powders.

Praemo

,

delivers Razor™ — an analytics engine combining industry expertise with AI and the IIoT to predict and prevent disruption to your operations.

Applus+ Canada

,

is a worldwide leader in the testing, inspection and certification sector.

Kinova, provide's humanity with robots that empower them to achieve the extraordinary everyday.

Clearpath

,

provide's inspired robotics solutions, world class support, and an incredible customer experience.

Callisto Integration is a leader in the design, development and implementation of advanced systems for the manufacturing industry.

OMNIRobotic

help mass customization manufacturers robotize their operations using autonomous industrial robots.
NGen's Supercluster Project Collaboration Session at CMTS welcomes companies - big and small – as well as researchers, organizations and all others engaged in advanced manufacturing to hear short project pitches for Supercluster funding, and to mingle afterwards with other advanced manufacturing leaders at an NGen reception afterwards.
It's the place to learn what transformative manufacturing projects are in the works, and discover if there is a partner or a place for you in a Supercluster project.
Any company still interested in pitching an idea should contact Jenn MacLean to see if their project qualifies.
CMTS is billed as Canada's largest manufacturing event and marks another opportunity to discover which companies are pitching NGen and looking for consortium partners.
We would like to thank Autodesk Technology Centres for sponsoring the CMTS NGen Collaboration event.