NGen's was in Surrey, BC on January 29th for our first Collaboration event on the Pacific coast. The room was at full capacity with an enthusiastic audience of advanced manufacturing stakeholders from industry, academia and government. Participants learned about NGen's funding programs and heard from companies with eight exciting new ideas for Supercluster projects in need of collaborative partners.
The presentations included four BC companies as well as Leichtbau BW and Lightweight Technology from Baden-Württemberg, Germany who presented four German companies looking for Canadian project partners.
BC companies:
Cast Analytics, looking for a manufacturing process, via the use of; Digital Twin, optimization & software tools.
Solar Earth Technologies, the establishment of a Solar Roads module production plant in BC.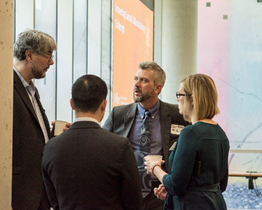 Virtro, VR Training Simulation framework to demonstrate core competency through an evidence based evaluation and metrics that consider verbal and action based situational learning.
Nova Biorubber Green Technologies Inc., want to create a sustainable and hypoallergenic bioproducts such as biolatex, biorubber and inulin from annual rubber plant to grow in North America.
German Companies:
ARENA2036, this project will develop high-performance, fiber reinforced, thermoplastic products by reusing factory waste.
German Institutes of Textile and Fiber Research (DITF), want to develop a fully thermally latent, high-temperature curable one-component resin systems.
Rosswag GmbH, development and qualification of new materials for the LPBF-Process for applications in the area of high strength tool steel alloys or high temperature and high pressure conditions.
INTEC International GmbH, looking for Universities or institutes for developing new algorithm for the MEP® ServiceBox.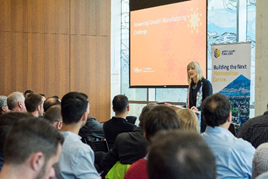 To learn more about these opportunities go here.
If you are interested in a partnership with any of the above listed project opportunities please fill out the following form and an NGen representative will contact you.
NGen connects manufacturers and technology companies to accelerate the development, adoption, and scale-up of transformative capabilities for Canadian companies. NGen will invest $190 million in funding for collaborative industry-led projects. Project funding is available to NGen members and membership is free.
Go here to join (https://www.ngen.ca/join) and not only will you be eligible to apply for Supercluster funding you will be part of Canada's leading advanced manufacturing capabilities database which is open to all companies, individuals and organizations engaged in developing the next generation of Canadian manufacturing.
Need a solution for your manufacturing problem?
Have a technology looking for a manufacturing application?
Joining NGen makes you or your organization immediately part of the Supercluster database, a national network that captures advanced manufacturing stakeholders' capabilities, from their strengths in new technologies to manufacturing assets and research specializations.
NGen membership is also a requirement for participating in Advanced Manufacturing Supercluster projects and programs. NGen is open for new project applications.
Among the benefits of NGen's free membership:
Lead or be part of Supercluster projects
Search for partners and new business opportunities
Find technology solutions from other members
Provide technology solutions to other members
Access upcoming NGen services, from benchmarking and technology assessments to skills and training programs
Attend Supercluster and partners events
Join in defining the capabilities that make up the next generation of manufacturing.
Join NGen to find your needs in advanced manufacturing. And to be found.
About NGen
Next Generation Manufacturing Canada (NGen) is Canada's Advanced Manufacturing Supercluster, a national industry-focused, not-for-profit dedicated to positioning Canada as a global leader in advanced manufacturing capabilities.